We have always been proud of our own website and have received a lot of positive feedback about it over the years. Unfortunately, due to our busy schedule it really has been years since it underwent any major changes. We began to feel like it was time to freshen things up and so it is with great pride that we are announcing the launch of our completely redesigned website... version 4.0. Check it out at www.designpointinc.com!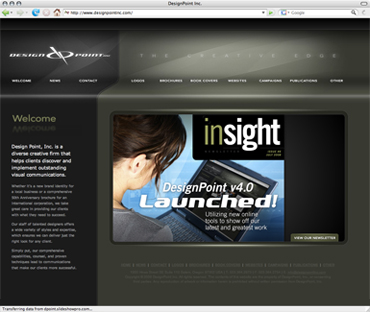 Our previous site was built 100% in Flash. As far as reliability and presentation were concerned, Flash suited our needs beautifully. Using keywords and meta data we were able to achieve decent search engine optimization. With our new site, we wanted to maximize it's abilities across the board, so we created a Flash/HTML hybrid site. This gives us the best of both worlds — the benefits of Flash's presentation, coupled with the increased search engine optimization of HTML.
As you look at our site, you will see that the main navigation for the site is all Flash. That allows us to have our custom rollover animations and menu tabs. The body of the site is in HTML, which means that search engines will be able to read every word and therefore, better direct internet traffic to our site. As a bonus, we now have deep linking options, and can direct people to specific sections of the site instantly, which we were unable to do using Flash.
Also implemented into the new site is a Flash/XML-based content management system that uses fully searchable descriptive text and instant web-based content management. This means that search engines can search and index virtually all information on our site, and we can update our portfolio in a matter of seconds from anywhere with web access. With these new tools we can reach more clients by making sure our work is easy to find and up-to-date.
So take our new site for a test drive. We would love to hear any feedback you may have because this is a bit of an experiment for us, and we hope to use what we learned in building this site to help us make our clients' sites even better!

Screenshots of the new designpointinc.com...