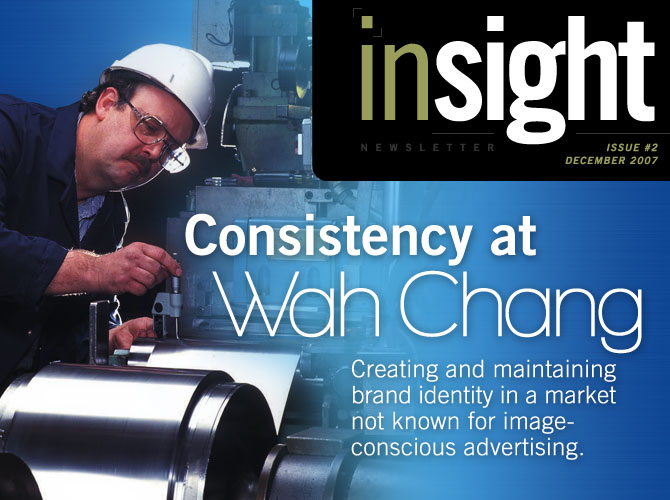 photo courtesy of ATI Wah Chang
ATI Wah Chang in Albany, Oregon has been a leader in the specialty metals industry for over 50 years, and they are always looking for ways to keep their existing and potential customers informed about who they are and what they offer. DesignPoint has worked closely with them for a number of years on a variety of marketing pieces and in 2005, in a classic example of "one thing leads to another," we began working on a whole new look for their company.

In late 2005 we were asked by Wah Chang to develop a calendar for 2006 to help celebrate their 50th anniversary. We coordinated with their marketing department and submitted a design that was complimentary to their existing materials, but brought a new style and focus to their identity. The calendar was very well received and sparked a redevelopment of almost their entire marketing campaign.

The next piece to utilize this new look was Wah Chang's 50th Anniversary Brochure, which is a piece that highlights the interesting history and exciting technologies that make Wah Chang what they are today. That project gave us an opportunity to really explore the potential of the new look and made it possible for us to apply it to everything from business cards to lobby displays. We are still busily incorporating more facets of their identity with this new look and we are extremely proud of the results.

A big part of the success we are having with the development of this campaign, and in our relationship with Wah Chang, is due to their marketing department. They are committed to promoting their company image and rising above the norm in their industry. Specialty metals is a field that relies heavily on statistics and research, and in most cases the accompanying marketing material is focused solely on technical data. Wah Chang is going beyond the basics and using attractive photography and a consistent image to help present their technical information and to better position themselves and their products.

Consistency is one of the most important concepts we work with here at DesignPoint. It is important for your customers to be able to easily recognize your marketing materials amidst the background noise. It greatly increases effectiveness when people know at a glance that the piece of advertising they are looking at came from your company. Wah Chang is building consistency across the board and we are confident it will give them an advantage in their industry.

A sampling of the collateral material created for WC...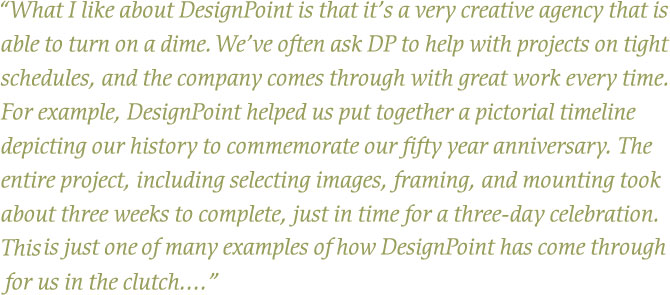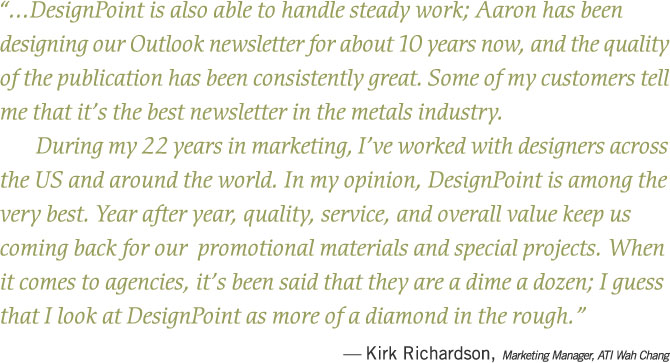 Baker Publishing Group and "97 Random Thoughts" by Justin Lookadoo...

Options are what book cover design is all about, and it gives us the chance to really get creative. We thought it might be fun to show a bit of how that process works. We generally get the title and other cover elements, along with a brief synopsis and a general idea of what the author and publisher would like to see. Next, we let the creativity flow. Once we're happy with our ideas, we submit a range of comps that the publisher reviews. Often, there are changes or combinations of various elements, and then the front cover is finalized for marketing purposes. Generally speaking, the project will then be placed on hold for a month or so while the publisher nails down page count, back cover text, and other necessary information. Once that info is passed on to us, we finish up the full cover and send it off to print.
In the case of "97 Random Thoughts", the cover on the far left was the final selection. Look for it in a bookstore near you!



Looking our best ...
This month we spent some time putting the finishing touches on our "new" office space. We just installed classy vinyl window signage to increase our visibility, and separate our space from the bank we share the building with. We also decorated our lobby with comfortable seating and lots of shelving to display samples of our work. This final phase of our move-in process has allowed us to put a personal stamp on the new space and has made it much more consistent (there's that word again) with our company image. If you're in the neighborhood stop by and take a look!
The holiday season is upon us...
Our office will be closed for Christmas on December 24-25. We wish you a happy holiday and all our best for a wonderful new year! Which reminds me, Santa Claus, if you are reading this, your business cards are ready for pick-up!




DERYK HILEY— BUSINESS MANAGER (EXTRAORDINAIRRE)
Factoid:



The U.S. nickname Uncle Sam was derived from Uncle Sam Wilson, a meat inspector in Troy, New York. The original portrait of Uncle Sam was created by James Montgomery Flagg.



Introducing:

This logo for Tomson Burnham LLC, a real estate agency in Salem, Oregon, is the latest brand from DesignPoint. Stationery and presentation materials were also created.